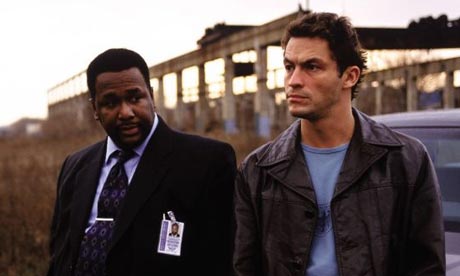 Detectives William "Bunk" Moreland (on the left) and Jimmy McNulty are on detail watching the Greek, a drug trafficker. The Greek emerges from his house:
Bunk – A different look for our boy.
McNulty – Yeah Perry Ellis or some shit
Bunk -- Now, how would a just-rolled-out-of-bed-looking motherfucker like you, know the designer?
McNulty --[pauses] Okay, I'm guessing.
Bunk -- It's a Joseph Abboud. He puts dark buttons instead of brass on his blazers. That's the Abboud signature.
McNulty -- You know what they call a guy who pays that much attention to his clothes, don't you?
Bunk – MMmmmhhhmm, A grown up.
*
The Wire
is the Greatest Multi Season show ever. Produced by HBO it explores the hardships facing Balmore citizens (Baltimore - for those of you not familar). Do yourself a favor and check it out.